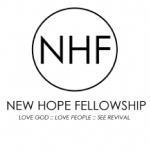 Website New Hope Fellowship
Love God. Love People. See Revival.
New Hope Fellowship, a dynamic, non-denominational, Christian fellowship in East Bloomfield, New York is currently seeking a senior pastor to join our staff. Bloomfield is a small village community, centrally located between the Finger Lakes region and the city of Rochester. Our worship style is contemporary with a mix of some traditional. New Hope Fellowship is committed to cooperating with God's plan to reach and disciple our community for Him. Our mission is to "Love God, Love People, and See Revival."
This position will provide general pastoral care to the body as well as leadership, development, and oversight for the staff and major ministry leaders of the church. This is a full-time, salaried position for a person with strong pastoral, motivational, and missional gifts.
More information regarding the position can be found on our Pastoral Search website.